Sweet Jazz AR-101/PH

Sweet Jazz Perry Hughus model – Specifications
Body :Top : Solid Spruce, Hand Made Arched / Side : Flame Maple /
Binding : Violin Style / Back : Flame Maple, Hand Made Arched.
Body Size :17 inches.
Neck :Maple 5 Ply Set-neck.
Fingerboard :Ebony. with Snow Flake position markers.
Scale :12F=314mm / 22Frets / R=350 43-58
Machine head :GOTOH SG381 GG B01
Bridge & Tailpiece :Ebony Bridge / Ebony Tailpiece / Ebony Pick guard.
Nut & Saddle :Bone nut & Ebony Saddle.
Pickups :Kent Armstrong HJGN-6 Pick-up.(Floating Type)
Control :Volume x 1 / End-pin Jack.
Color :AVC (Antique Violin Color)
Case :with Hard Case.
Price :JPY 350,000 (税別)
Landscape AR-101/PH Endorser
Perry Hughes – Jazz Guitarist
Perry Hughes ranks among the greatest of Detroit's jazz guitarists.

He began his performing career in Detroit nightclubs at the tender age of 14, and hasn't stopped performing in the many decades since then. A self-taught musician, he went on to be an instructor of jazz guitar at Michigan State University.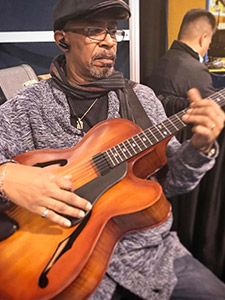 ペリー・ヒューズは、デトロイトのジャズギタリストの中でも最も高い評価を受けています。
彼は14歳のときにデトロイト・ナイトクラブで演技を始め、その後数十年に渡って演技をやめたわけではありません。独学のミュージシャンで、彼はミシガン州立大学でジャズギターのインストラクターになりました。
彼のギターへのアプローチは、ウェス・モンゴメリー、グラント・グリーン、パット・マルティーノ、ジョージ・ベンソンのような偉大さに匹敵すると言われています。彼の音楽的なレジュメには、アレサ・フランクリン、ボブ・ジェイムス、アール・クルー、ロニー・ローズ、メアリー・ウィルソン、ザ・シュープリームス、マーサ・リーヴス、バンデラス、ビル・ハイドなど、トップジャズやポップミュージシャン、 ジミー・スミス、リチャード・グルーヴ・ホームズ、チャールズ・アーランド、ロニー・スミス、ロニー・フォスター、ドン・パターソン、ジャック・マクダフ、マリーナ・ショウ、ボビー・ライル、ジョー・ウィリアムズ、ウィル・ダウニング、ジーン・ダンラップ、アイリーン・リード