MD-Premier G1
この商品について問い合わせる

The quality guitar MD produced by collaboration with a pro musician. They came our as a Full-Scale, High-class guitar proving height of quality of JAPAN.
MD-Premier G1 – Specifications
Body : Solid Quilted Maple Arched Top
Mahogany Back & Hollow-chamber construction.
Neck :Mahogany+Timeles Maple + Mahogany 3ply, Set-neck.
Fingerboard :Ebony with Zero-fret for Sustain.
Scale :24.75inches / 22Frets.
Machine head :GOTOH Rotomatic Magnum-Lock.
Tremolo :GOTOH EV510T-FE
Pickups :MM-Produced Nickel Silver Waxed Pickup JAPAN.
Control :MM-Produced VST-1 Original Circuit.
Parts :Q-Parts Abalone Knob & Abalone Position Markers On Fingerboard.
Color :SBL (See Through Blue)
Case :with Hard Case.
Price :JPY 600,000 – Tax excluded. (*Japan local price)
オーダーメイドにより承っております。納期3~4か月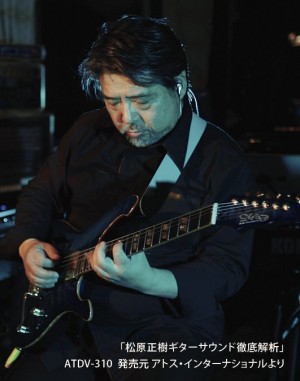 ◆ Qualted Maple top & Mahogany back body ( Hollow Chamber Body with F-hole )
指先から伝えられた振動は最高のレゾナンスポイントを保ち、粘りのあるダイナミックな音に変化する。セミホローボディーに蓄えられたサウンドは、ピックアップと調和して最高のハーモニーを提供する。
◆ GOTOH Locking Tuner
今や世界のトレモロ付のギターには標準装備となったMagnum lock糸巻き。安定したチューニングを支える重要なポイントを担う。
◆ GOTOH EV510T-FE Tremolo
繊細なアーミングを素直に表現できるパワースプリング2本掛けとの絶妙なバランスが、軽いタッチでの演奏を可能にした。FEサドルの粒立ちの良い音質も特筆ものである。
◆ Angled head design and Zero-fret
よりサスティーンとローフレットでの演奏性を高めるためにZero-Fretを採用。フィンガータッチをより軽快なレスポンスで表現できる。
◆ MM-Produce Original Pickup (M-1 / F and M-1 / R )
Alnico#4 wax含浸、それも粘度の違ったWaxを2度含浸、それらをヨウ箔のカバーが覆う。線径、着磁、すべてが一流のプロミュージシャン松原をも唸らせる完成されたPUとなった。
◆ VST-1 circuit
"Double 5way lever-SW"の採用により2 Hum-buckerなのにシングルのハーフトーンも再現可能、まさにVersatile soundの実現。ネック側のHBからかもし出す透き通るようなサウンドに魅了される。
Position-1 : Neck Hum-bucking
Position-2 : Neck Single
Position-3 : Neck & Bridge Hum-bucking
Position-4 : Bridge Single
Position-5 : Bridge Hum-bucking
Coiltap-SW for Position-3